Montessori Puzzle Gripping Ball
This gripping ball is Montessori material handmade in France, flexible and easy to handle. This educational toy is suitable for a child from 3 months to 2 years old in order to develop the grip, coordination of movements, awakening of the senses (especially sight and touch) as well as the baby's motor skills.
Attention: Model of gripping ball to be chosen according to the list at the bottom of the page.
Possible to include bells inside the ball and personalize the ball with the child's first name.
As the gripper balls are custom made, the manufacturing time is 2 to 7 working days (depending on the number of orders) before the ball is sent.
Product customisation
Don't forget to save your customization to be able to add to cart
This gripping ball , also called sensory ball is a awakening ball inspired by Montessori pedagogy . It will delight babies from birth.
The Montessori method was created by Maria Montessori , an Italian doctor and educator in 1907. Today it is used in more than 22,000 establishments around the world. The particularity of the Montessori method is to put forward the personal development of the child and to encourage his autonomy thanks to educational toys based on the senses and perception.
This Montessori ball 1st age is a playful gift for babies, ideal as a birth gift or baptism gift , or any just because you love them.
The gripping ball can be used in 3 phases: from birth to 3 months, from 3 to 6 months and from 6 to 24 months.
Baby sensory ball: From birth to 3 months - Coordination & Perception in space
From birth, the gripping ball can be suspended above the infant (if possible with a rubber band) so that he tries to catch it with his hands or feet, this which allows to develop the coordination of his hands and his legs as well as the introduction of the movements in space and thus the increase of his understanding of the world.
The colors are coordinated, bright but contrasting, to catch your baby's attention so that he can easily perceive it and stimulate his eyesight.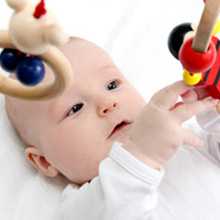 Puzzle ball: From 3 to 6 months - Motor skills, Abilities, Tonus & Awakening of the senses (sight and touch)
Between 3 and 6 months, this Montessori ball is perfect when your baby begins to catch everything around him with his hands thanks to its 12 padded triangles, which will develop his motor skills and his sense of touch.
In addition, this ball serves as a learning tool for gripping objects because your baby will easily grip the different areas of the ball , which helps him build his hand-eye coordination and develop abilities and psychomotor faculties.
The puzzle ball has a special shape, which prevents it from rolling too far, which motivates your baby to crawl to easily retrieve it on his own. He will learn to pass the ball from hand to hand. It therefore helps tone their hands, wrists and legs and increase your baby's autonomy and concentration while encouraging reflection.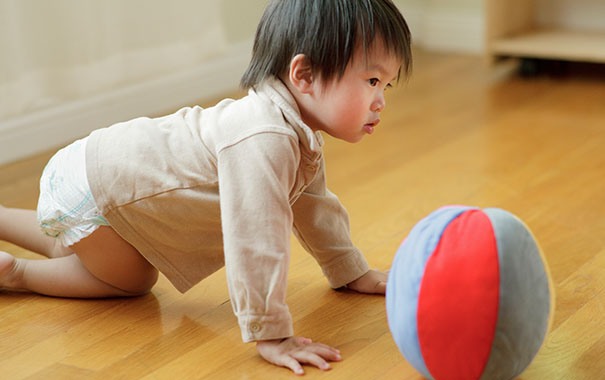 Sensory ball: After 6 months - Collaboration, Socialization & Learning of colors
When it is older, the child can use it indoors as a small baby ball in fabric with other children or his parents, which will develop his collaboration and socialization.
Thanks to the different colors of the ball, it will help children develop color learning.
In short, this gripping ball supports the development of your baby while stimulating and having fun.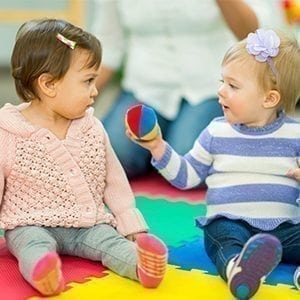 Montessori sensory ball: Handmade - Made in France
This Montessori ball is handmade by a seamstress, which makes its craftsmanship neat. The materials are of high quality, without harmful substances. The seams are designed to resist baby's biting.
Materials used: Cotton fabric and polyester filling.
Hand wash recommended, machine wash possible at 30 ° C in delicate or gentle cycle. Air drying recommended. No dryer. No ironing.
This product is made in France.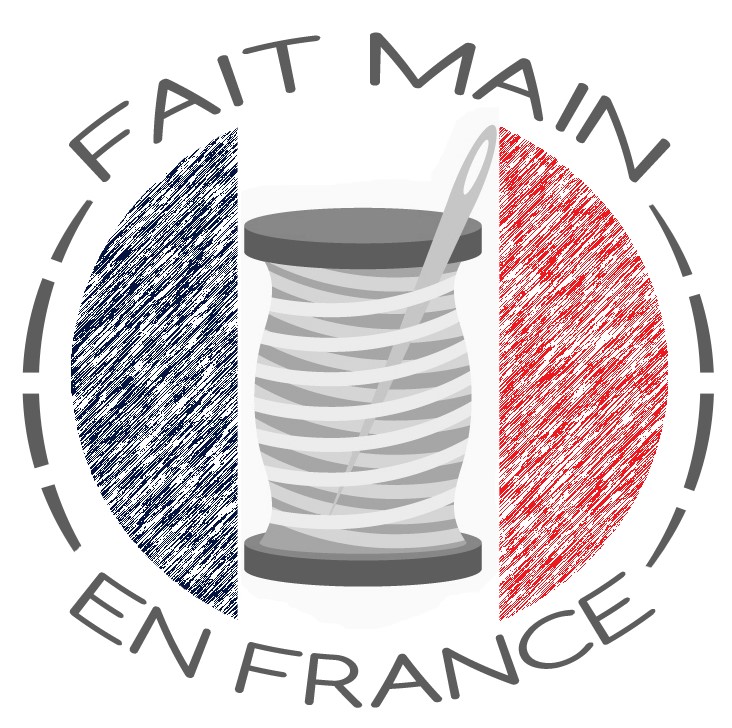 Gripping ball models
Find below all the models available for gripping balls. Please insert the number of the chosen model when ordering.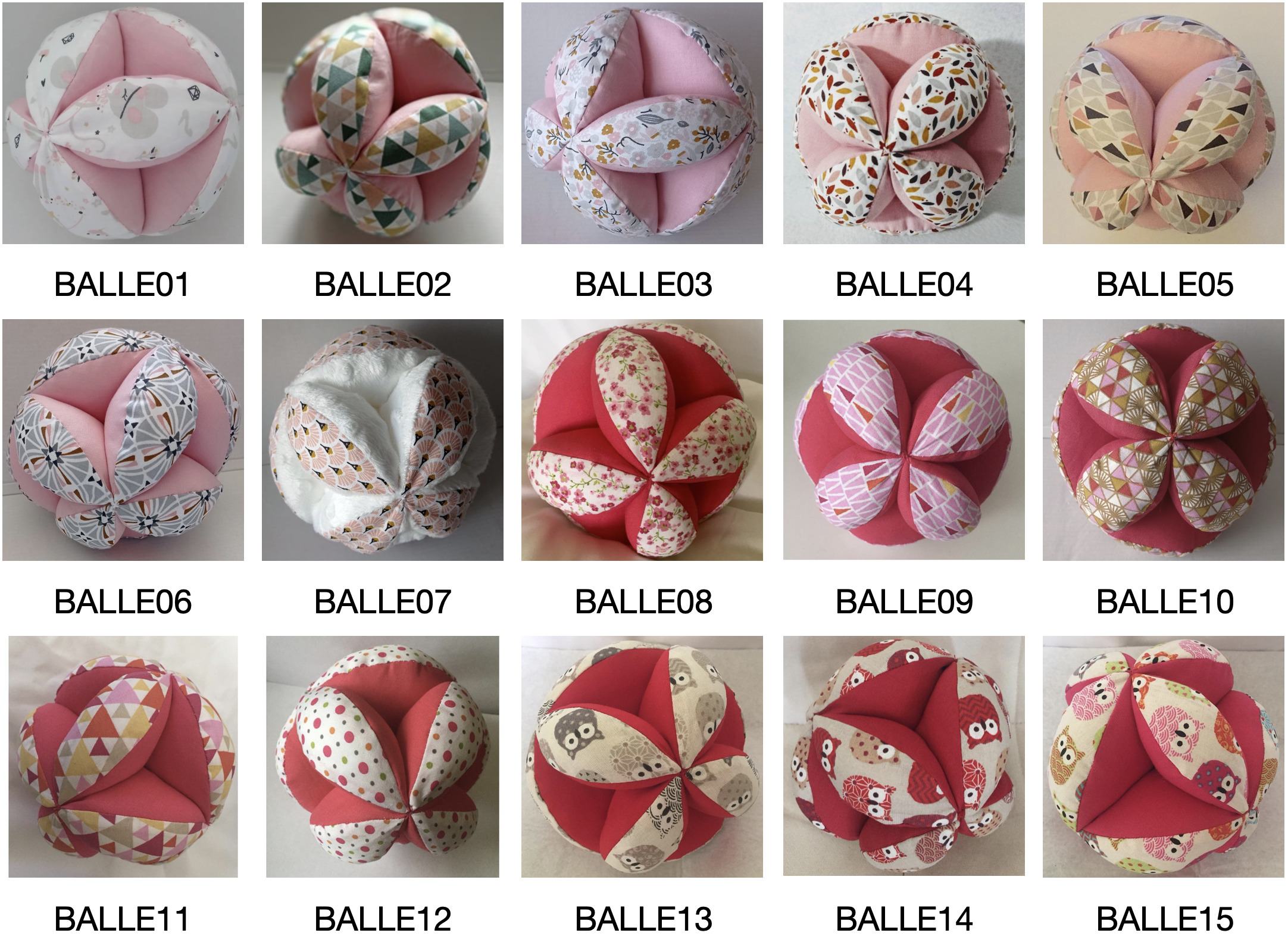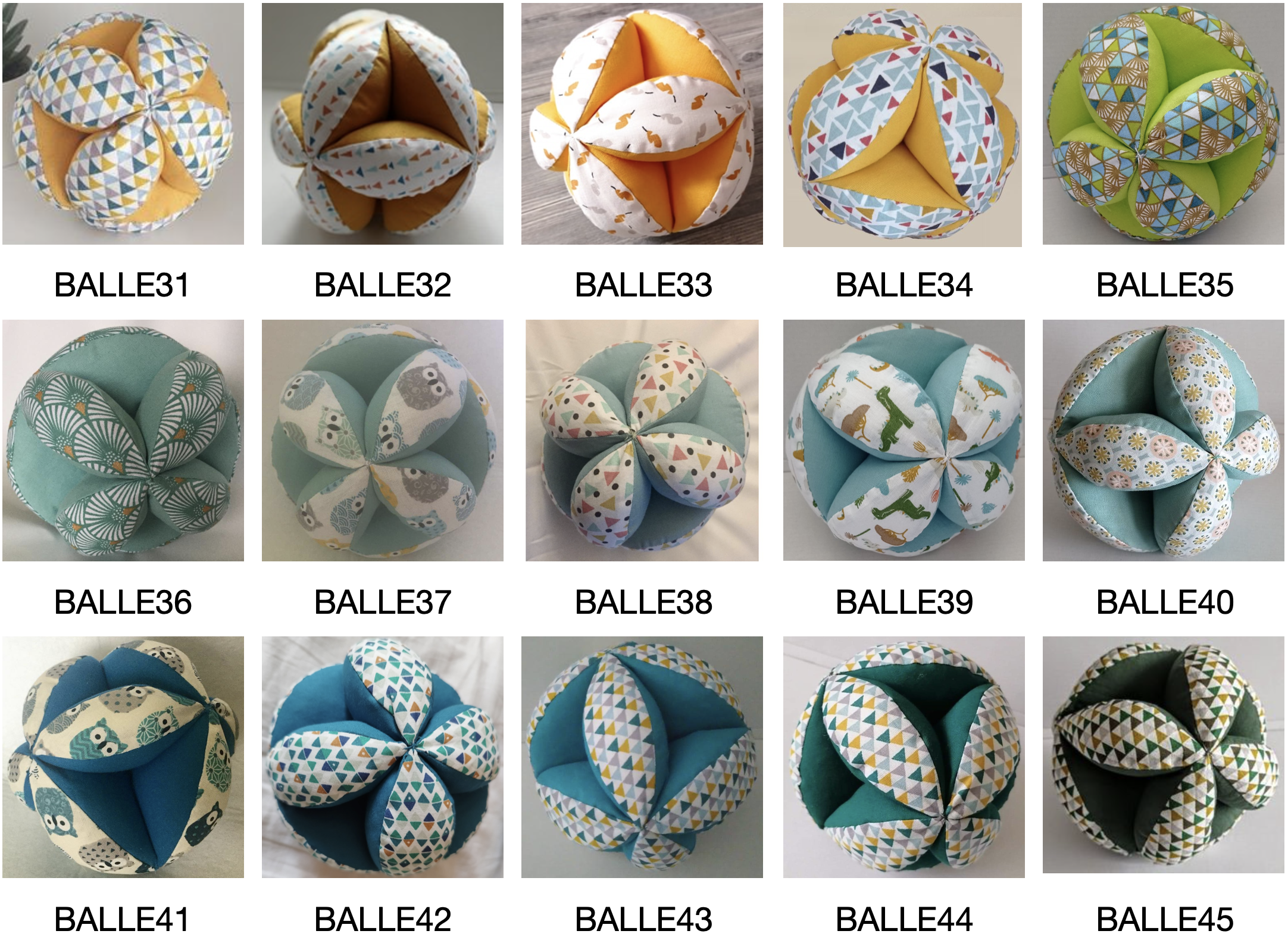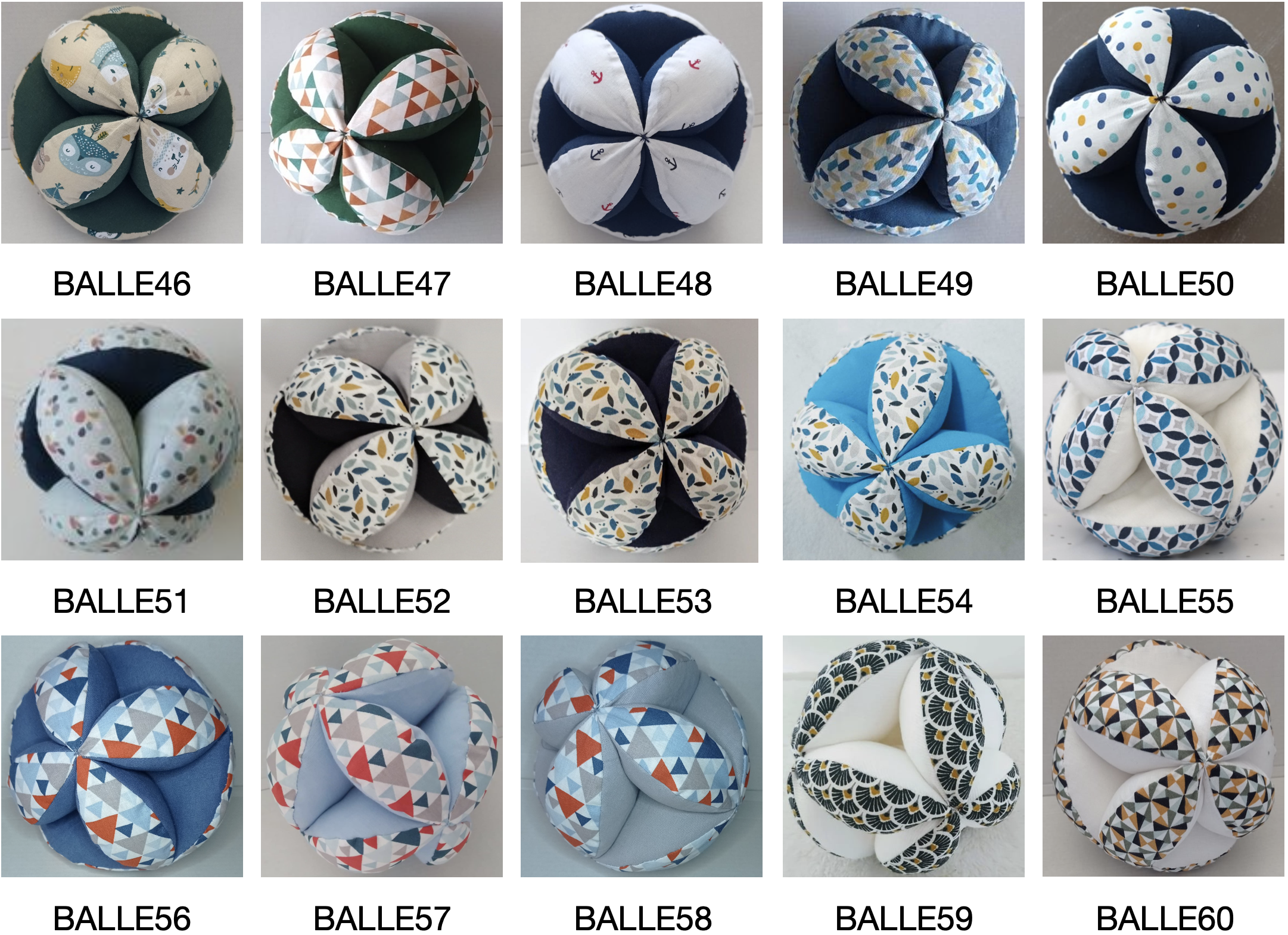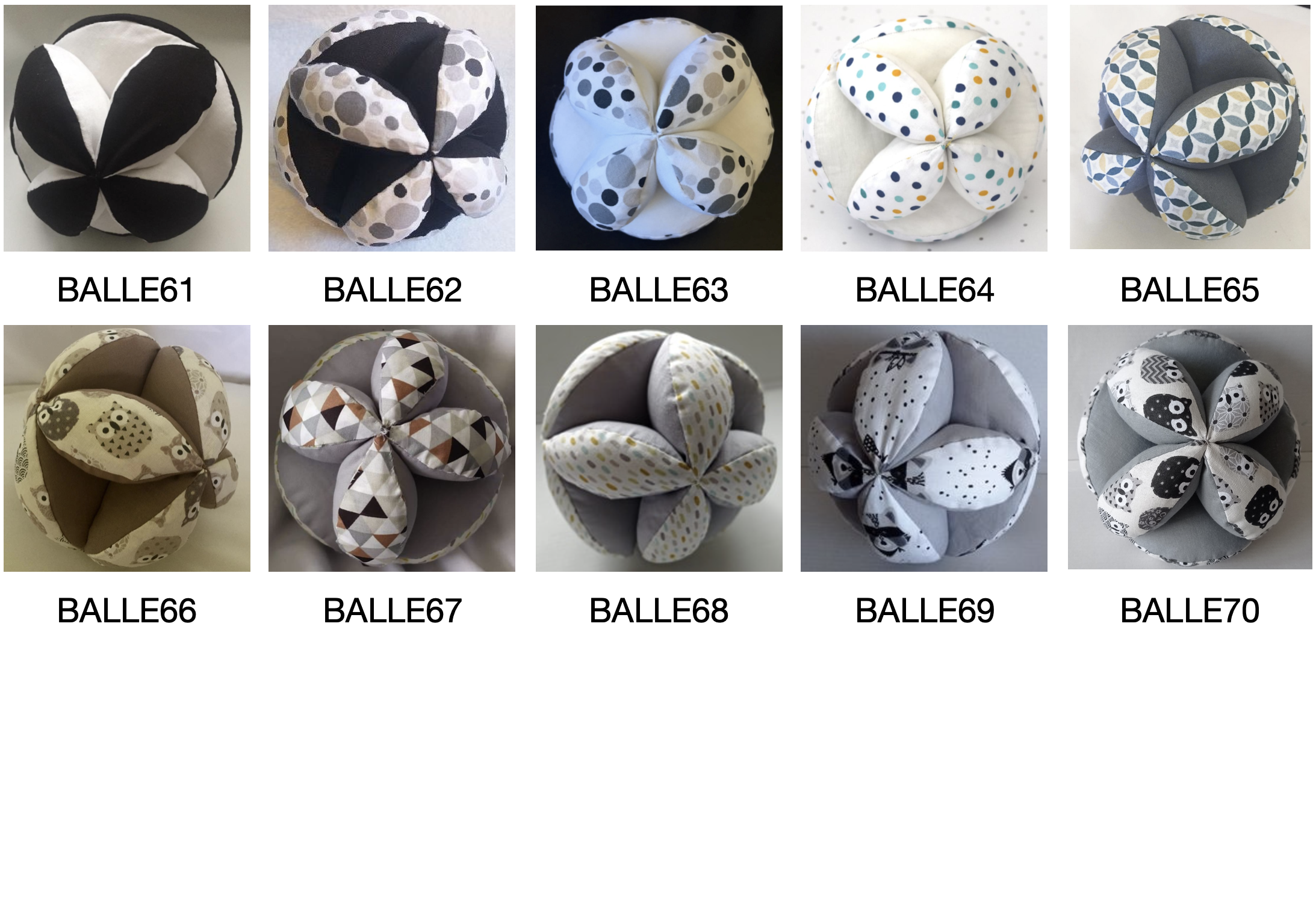 Gripping ball options: Bell, First name
In addition to having over 80 different gripping ball models, it is also possible to customize your gripping ball by adding:
- Bells to stimulate your child's attention and music. The bell can be added in models starting with BALLEG (from BALLEG01 to BALLEG38).
- NEW : The inscription of the first name of your baby embroidered on one side of the ball. Choice of 7 different fonts (Font 4 by default) - Choice of colour (Black by default).
Benefits
- This toy can be taken anywhere with you thanks to its small size.
- All our Montessori toys are guaranteed for 1 year.
- Models to choose from (over 80 models available) .
This toy is inspired by the Montessori method thanks to its playful and fun side, it is not a Montessori toy.
Data sheet
Weight

100 g

Âge

0m+
16 other products in the same category: