Wooden walking trolley - Baby activity table - Rainbow Deluxe
This wooden baby pusher is a premium baby pusher, nominated at TOY AWARD 2020. It contains 5 playable surfaces and an incredible abundance of toys! Beyond learning to walk, this walker will help your baby wake up. Turn, slide, embed, draw, slide, ... Embed shapes are of different colors (red, green, yellow, blue, orange) and of different shapes (star, cloud, square, round, triangle). The numbers 1 to 9 are inscribed on the rotating squares. Inside the baby walker there is a space that will allow baby to transport or store his toys. This wooden walker is literally a mini rolling toy room. It is a must have for your child! This walking cart is an ultra rich and complete Montessori material that will allow you to review many forms of learning.
Baby walking cart
Wooden walking cart
This baby walking trolley will be the ideal companion to accompany your child during his first steps. This wooden walking cart has a wide range of toys and activities on 5 of its sides. On the top, this push cart has sliding and colorful wooden elements that will help your child develop fine motor skills. The rainbow is mounted on a spring which will allow it to always return to its original position.



The right side of the pusher is made up of 9 numbers on rotating wooden squares in nine different colors. The front of this wooden pusher will allow your baby to have fun fitting various shapes. Blue circle, yellow star, orange triangle, green pentagon, white cloud and red square. All these shapes will fall inside the walking cart which will then act as a storage bin. This will allow baby to carry his favorite toys and toys inside. If you were looking for a caddy walking cart , this one will do just fine, but not only!

On the opposite side, this wooden walking cart has a large slate that will allow your child to draw and develop his creativity. Finally, on the last side of the pusher carriage , you will find a triangular window that opens and closes with three small triangular hinged doors which will be a good exercise for the development of motor skills. baby. The wheels of this montessori walking cart are made with a silicone coating which makes their movements silent. Our shop of toys, toys and Montessori equipment is very happy to be able to offer you this superb baby walker which was presented at the TOY AWARD 2020 fair. Thanks to it, baby will never be bored and will always have a multitude of toys available. handy, toys inspired by the Montessori Method that will allow your child to have fun while waking up.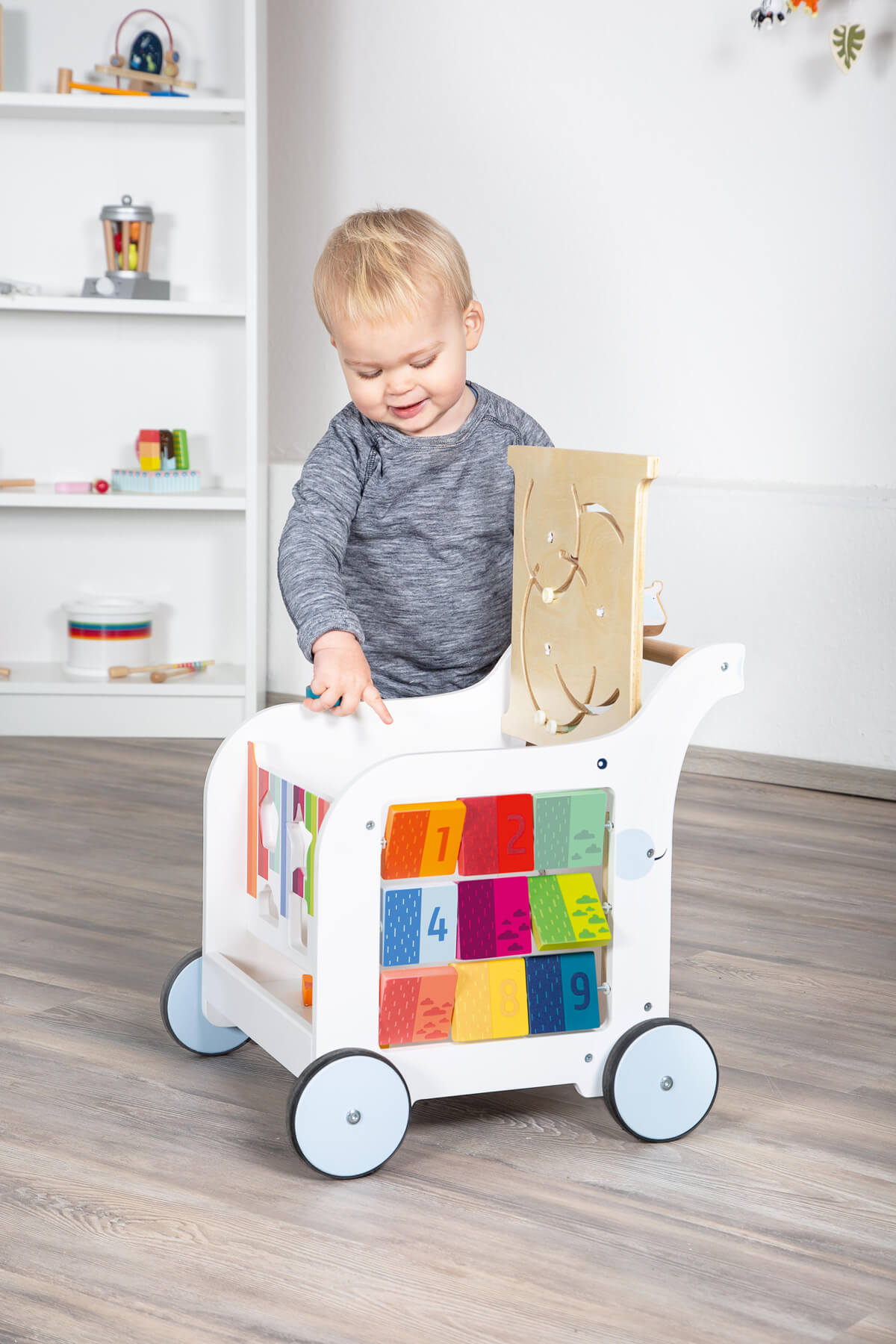 With its wide design, anti-tip trolley does not risk overturning or tipping over.
This trolley with brake will facilitate a progression and controlled advancement ... Its axle will greatly facilitate your child's driving.



This multi-activity walking cart Top of the range, robust design is guaranteed for 2 years. You can find all our pushers, walking carts or baby carriers in their associated category.
Data sheet
Dimensions

42 x 39 x 42 cm | hauteur du manche 41 cm

Weight

6.76 kg

Âge

1+
12 other products in the same category: