Magnetic numbers + Magnetic mathematical symbols in Montessori wood
This magnetic wooden number box is a Montessori material to be used from 2 years old to develop counting and calculation, learning colors and numbers. It is also a new experience of magnetism and their motor skills. This set is composed of 40 pieces: the numbers from 0 to 9 (3 of each) as well as 5 mathematical symbols (2 of each): addition, subtraction, multiplication, division and equal.
Montessori Method
This box of wooden magnetic numbers is one of the toys that can be used within the framework of Montessori pedagogy. Please note that it is not suitable for a child under 2 years old, to be used under the supervision of an adult.
The Montessori method was created by Maria Montessori, an Italian doctor and educator in 1907. Today it is used in more than 22,000 establishments in the world. The particularity of the Montessori method is to put forward the personal development of the child and to encourage his autonomy through educational toys based on the senses and perception.
Montessori Mathematical Material
This set of magnetic numbers and symbols derived from the Montessori method will develop mathematical logic and reflection in your child by teaching them to count and then to do a multitude of simple calculations while having fun.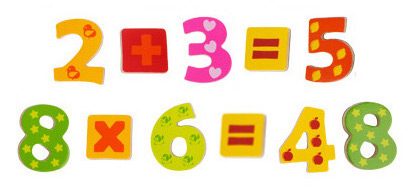 Montessori learning
This educational toy will develop your child's cognition by learning about colors, numbers and basic mathematical symbols.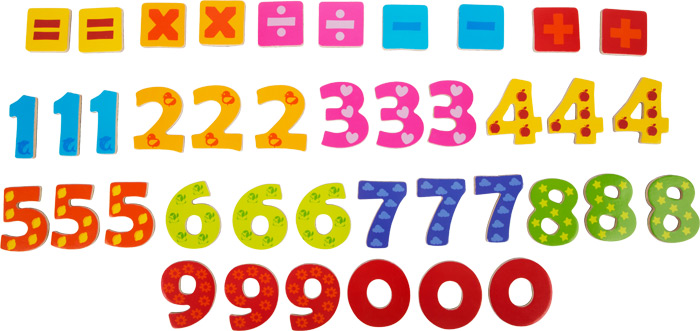 Motor skills
These magnetic numbers and symbols will develop your child's motor skills as he will make the connection between the movement of his fingers and the coordination of his eyes, which will develop his sense of touch and his ability to observe.
Moreover, thanks to the magnetic back, children will be able to discover the sensation of magnetism by playing with these numbers on the fridge door for example.
Composition of the box
This wooden box is composed of 40 pieces: 3 times each digits from 0 to 9 and 2 times each basic mathematical symbol (addition, subtraction, multiplication, division and equal). All these elements are made of natural wood painted with non-toxic water-based paint and covered with a magnet on the back.
Benefits
This toy can be taken anywhere with you thanks to its pocket size, but it is also possible to use them on a magnet board or hang them on the fridge.
This toy is inspired by the Montessori method thanks to its playful and fun side, it is not a Montessori toy.
Data sheet
Dimensions

Environ 17 x 15 x 5 cm

Weight

400 g

Âge

3+
8 other products in the same category: