Compute Bag - Montessori Math
This bag containing 6 calculation dices is a Montessori material to be used from 5 years to develop the learning of numbers and mathematical symbols, calculations resolutions and reflections. This game comes with a lot of calculation exercises to allow the child to solve a large quantity of mathematical combinations: addition, subtraction, multiplication, ... In order to increase the difficulty it is possible to add dices in order to propose a longer operation or with 2-digit numbers.
The dices are made of 100% FSC certified wood.
Montessori Method
This math dice bag is one of the tools that can be used as part of the Montessori pedagogy for children from 5 years old to learn to count in a fun and fun way.
The Montessori method was created by Maria Montessori, an Italian doctor and educator in 1907. Today it is used in more than 22,000 establishments worldwide. The peculiarity of the Montessori method is to highlight the personal development of the child and to encourage his autonomy thanks to educational toys based on the senses and perception.
Montessori Mathematical Materials
This toy of calculation dices derived from the Montessori method, composed of 6 dices certified in FSC wood, will develop the learning of arithmetic by teaching the child to do a multitude of operations while playing and being logical, thoughtful and patient. Your child will be able to add, subtract, multiply, divide and compare numbers.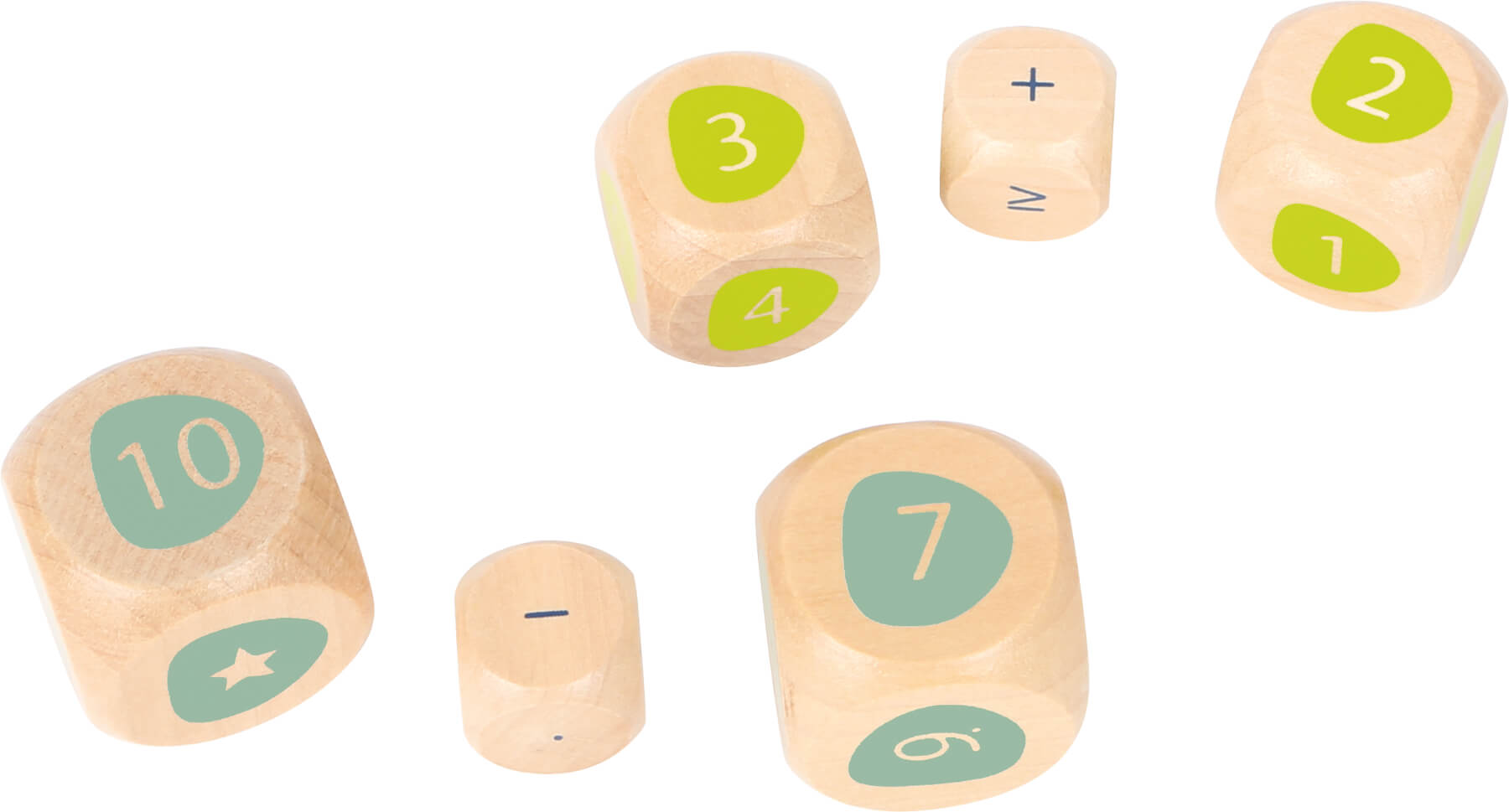 Montessori Learning
This educational toy will develop your child's cognition by stimulating learning numbers and mathematical symbols , improving memory as well as developing learning in calculation resolution.
Benefits
This toy can be taken anywhere with you thanks to its pocket size.
This toy is inspired by the Montessori method thanks to its playful and fun side, it is not a Montessori toy.
Data sheet
Dimensions

Dés : de 3 à 1,5 cm x de 3 à 1,5 cm x 3 à 1,5 cm (plusieurs tailles)

Weight

80 g

Âge

6+
16 other products in the same category: