Horizontal abacus - Addition and Subtraction
This large horizontal wooden abacus is inspired by Montessori material to be used from 3 years old in order to develop counting but above all additions and subtractions, as well as the representation of quantities and motor skills fine.
Little extra: The wooden-colored abacus is 100% FSC® certified.
Do not hesitate to consult our other wooden abacuses in the Mathematics category.
Montessori method
This horizontal wooden abacus is one of the tools that can be used in Montessori pedagogy from 3 years old.
The Montessori method was created by Maria Montessori, an Italian doctor and educator in 1907. Today it is used in more than 22,000 establishments around the world. The particularity of the Montessori method is to highlight the personal development of the child and to encourage his autonomy through educational toys based on the senses and perception.
Montessori mathematics material: Chinese abacus or abacus
This abacus is made up of 10 arcs that each contain 1 to 10 beads. It is inspired by the Montessori method and allows you to develop mathematical logic as well as your child's thinking through learning addition, subtraction and counting.
The purpose of the abacus is to make the child more comfortable with mental arithmetic and to prevent the child from learning to count on his fingers because it is a bad habit that is hard to remove later ( calculation error when exceeding 10, ...).
The child must first learn to count from 0 to 9 thanks to the first row of 10 beads (1 = 1 isolated bead, 2 = 2 isolated beads, ...). The abacus also allows you to learn to count by including several digits (learning to count from 2 to 2, from 3 to 3, ...).
Montessori learning
This toy will develop your child's cognition by mobilizing the learning of colors as well as the representation of quantities. It will also strengthen the child's concentration and attention.
Motor skills
This abacus will develop your child's motor skills because he will have to relate the movement and flexibility of his fingers to coordination with his eyes, which will develop his sense of touch and his ability to observe.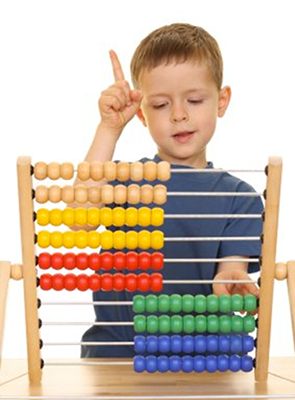 Benefits
In addition, it is made of natural wood painted with non-toxic water-based paint, so it is safe for your child.
This toy is inspired by the Montessori method thanks to its playful and fun side, it is not a Montessori toy.
Data sheet
Dimensions

30 x 8 x 14 cm

Weight

Bois : 570 g / Couleurs : 670 g

Âge

4+
Specific References
ean13

4020972113245
16 other products in the same category: