Montessori Tangram
This Tangram wooden Montessori will develop reflection, logic, patience, imagination, collaboration, learning of colors and geometry as well as your child's motor skills from 2 years old. This Tangram Montessori comes with a selection of tricks to do.
Montessori method
This wooden Montessori Tangram is one of the toys that can be used within the framework of Montessori pedagogy. It will make children and adults laugh. Please note that it is not suitable for a child under 2 years old and must be used under the supervision of an adult.
The Montessori method was created by Maria Montessori, an Italian doctor and educator in 1907. Today it is used in more than 22,000 establishments around the world. The particularity of the Montessori method is to highlight the personal development of the child and to encourage his autonomy thanks to educational toys based on the senses and perception.
Montessori learning
This educational puzzle will develop your child's cognition by mobilizing the learning of colors and the bases of geometry thanks to all the different pieces of the puzzle.
This Tangram derived from the Montessori method will develop your child's logic, thinking and patience because the objective of Tangram is to reconstitute a square in a wooden tray by juxtaposing the 7 pieces of the puzzle. These pieces are called Tans.
Creativity & Imagination
This Montessori Tangram can also develop your child's creativity and imagination by reproducing multiple possible combinations.
After the purchase, Jeu-Montessori will send you a file made up of silhouettes to reproduce, the correction with the models to make these silhouettes as well as the pattern to print so that you can play the Montessori toy while waiting to receive your order.
Motor skills & Perception in space
This Tangram will develop your child's motor skills because he will have to make the connection between the movement of his hands with the coordination of his eyes, which will develop his capacity through sensory experimentation.
Moreover, by trying to reconstruct the silhouettes or the square in the tray with the pieces, the child increases his spatial perception.
Collaboration & Socialization
This educational toy is conducive to collaboration and therefore to socializing because it can be played alone but also with others.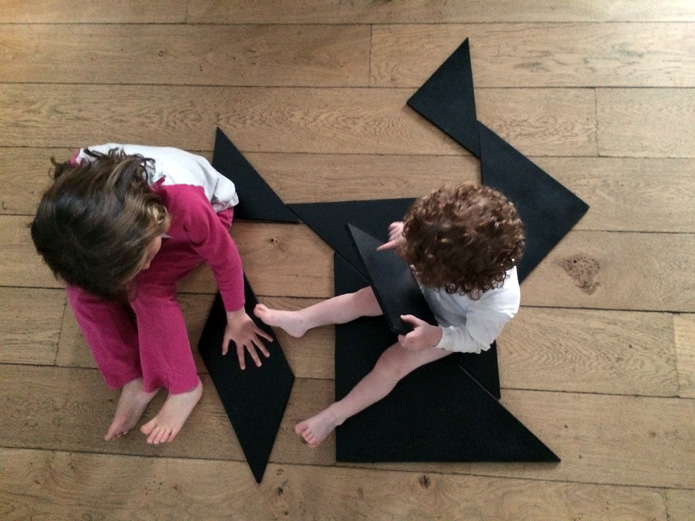 Benefits
This toy: Tangram Montessori can be taken anywhere with you thanks to its pocket size.
In addition, it is made of natural wood painted with non-toxic water-based paint, so it is safe for your child.
This toy is inspired by the Montessori method thanks to its playful and fun side, it is not a Montessori toy.
Bonus: This tangram is accompanied by a set of silhouettes to be reproduced with the 7 pieces and models to reproduce these silhouettes.
Data sheet
Dimensions

Weight

45 g

Âge

3+
16 other products in the same category: